Prestige Apartment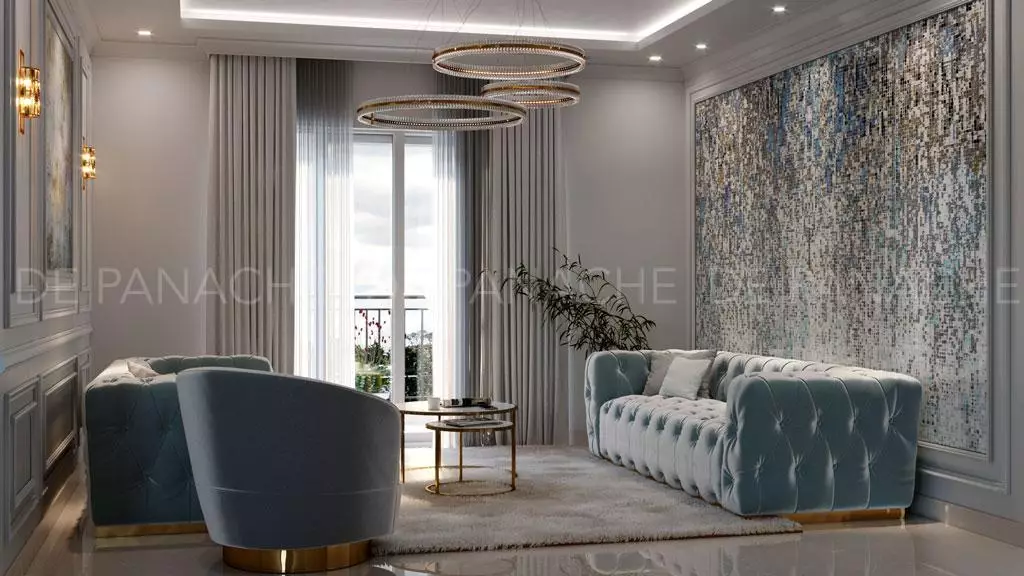 The De Panache team made this exquisite design, one of Bangalore's best interior companies. The bedroom is nothing less than an exemplary design in a display which upholds the beautiful merging of tradition and modernity. The headboard of the king-size bed has a beautiful wooden carving. The bed has been made of pure teak wood, which in itself speaks the royalty of the piece.  The ceiling and surrounding walls have been carved out in exclusive and exquisite designs of solid wood beading and carving panel.
The solid wood study unit in white makes a statement of richness and sophistication. The beautiful framed painting of flowers adds purity and serenity to space. The extra storage units have been smartly designed on the walls to cover them up, making the interior space wider and spacious. The TV unit is another exclusive collection of this interior space, which has wooden carved elements. The clean, simple design again in white makes the area look complete & only the best interior design in bangalore can deliver such a beauty. The bed with the surrounding details of the room provides a vibrant look to the whole interior.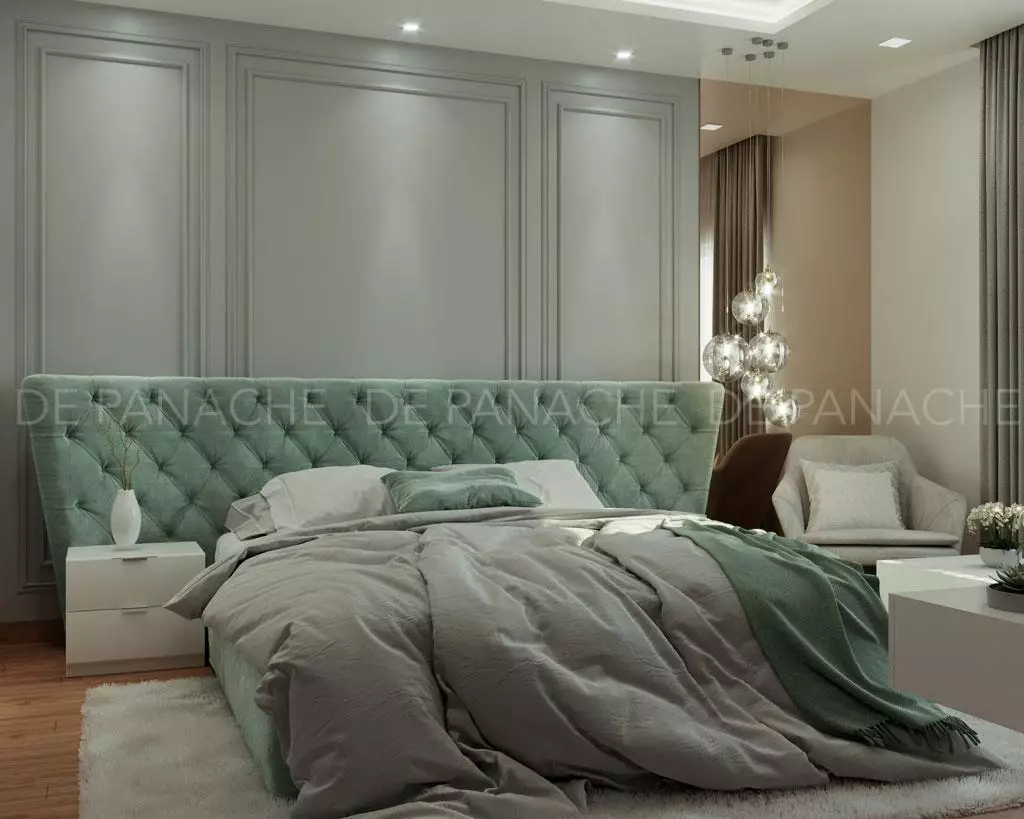 The dining area catches the eye of every soul. The surrounding walls of this dining area have been covered with high-quality European Vinyl based wall covering. In the beige coloured base, the floral designs in it make it stand out of the crowd. The rich-looking pure take wood made dining table and chair have been designed in some royal pattern to give that regal feel.
The enormous dark wood designed glass fitted crockery unit is another eye-catching addition to this interior. This crockery unit is a classic piece made of pure teak wood, thus accentuating every corner's beauty. The colossal spread crystal chandelier makes another statement here, which is unique and beautiful and extraordinarily classy and expensive.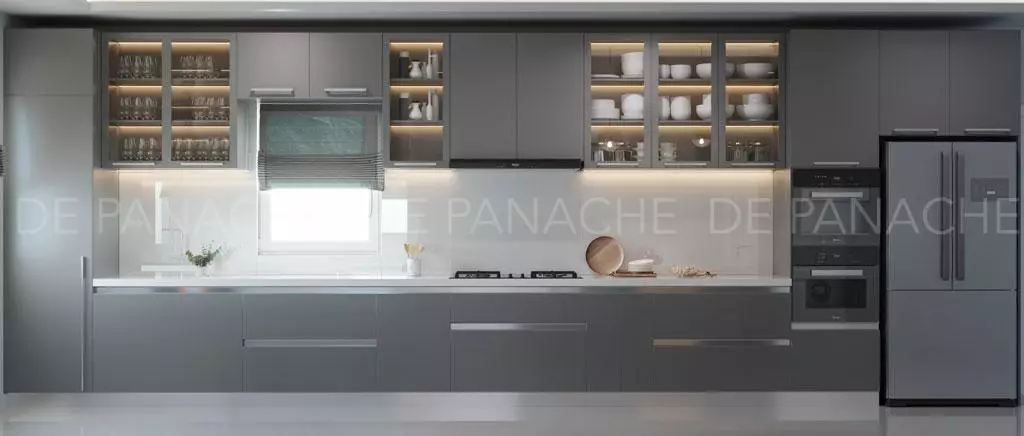 This bedroom is another masterpiece of De Panache, one of the best kitchen interior design bangalore.  The traditional wall washers make the whole interior space look vivacious. The wooden beading and carving panels have been beautifully done, keeping in mind the minute detailing work. Again the carved teak wood bed and the side table together make a statement of richness and royalty.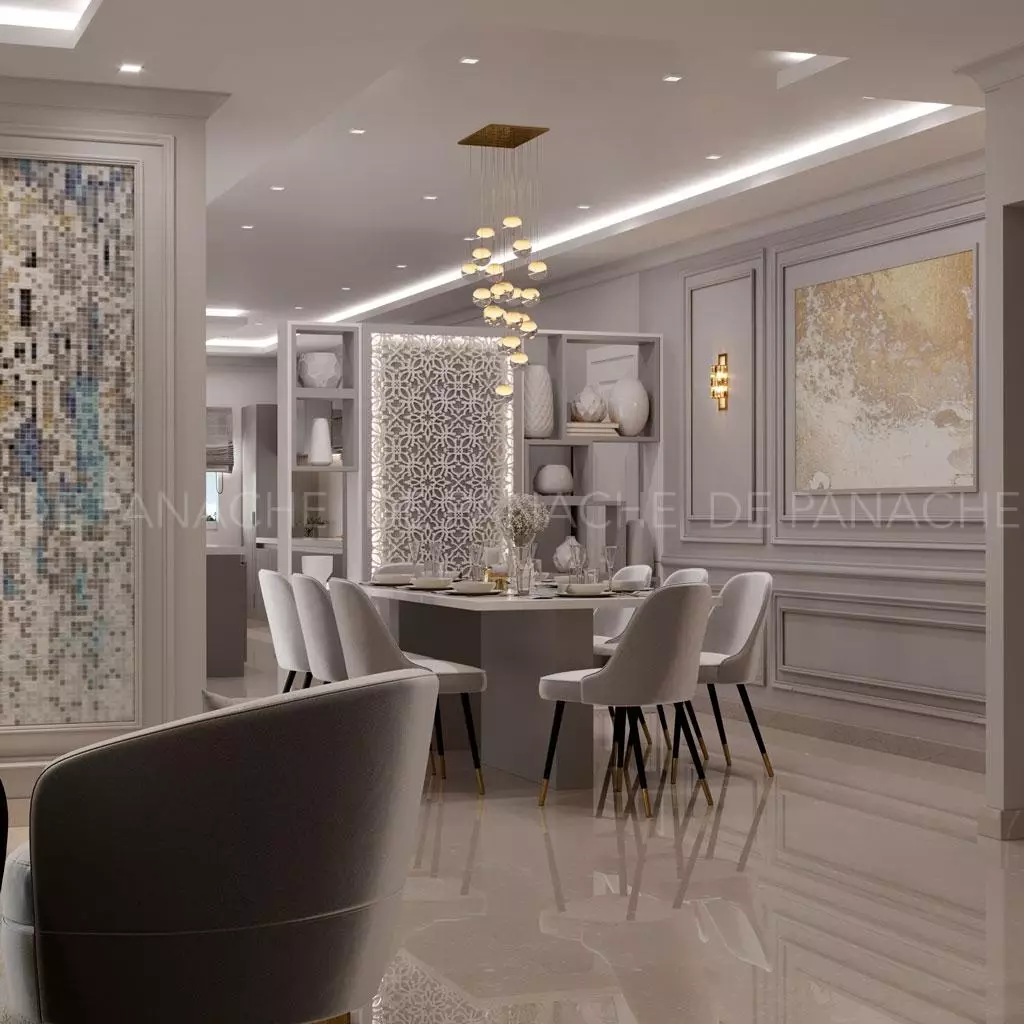 The whole interior speaks a story, the story of the aristocracy. The solid wood backdrop of the bed with carvings again keeps us drooling over the interior's magnanimity. The high polished marble flooring and the panel lights all fantastically build up the interior space's mood, which whispers the beautiful story in the making- the rendition of two cultures, the beauty, and richness of tradition with modernity getting mixed together.