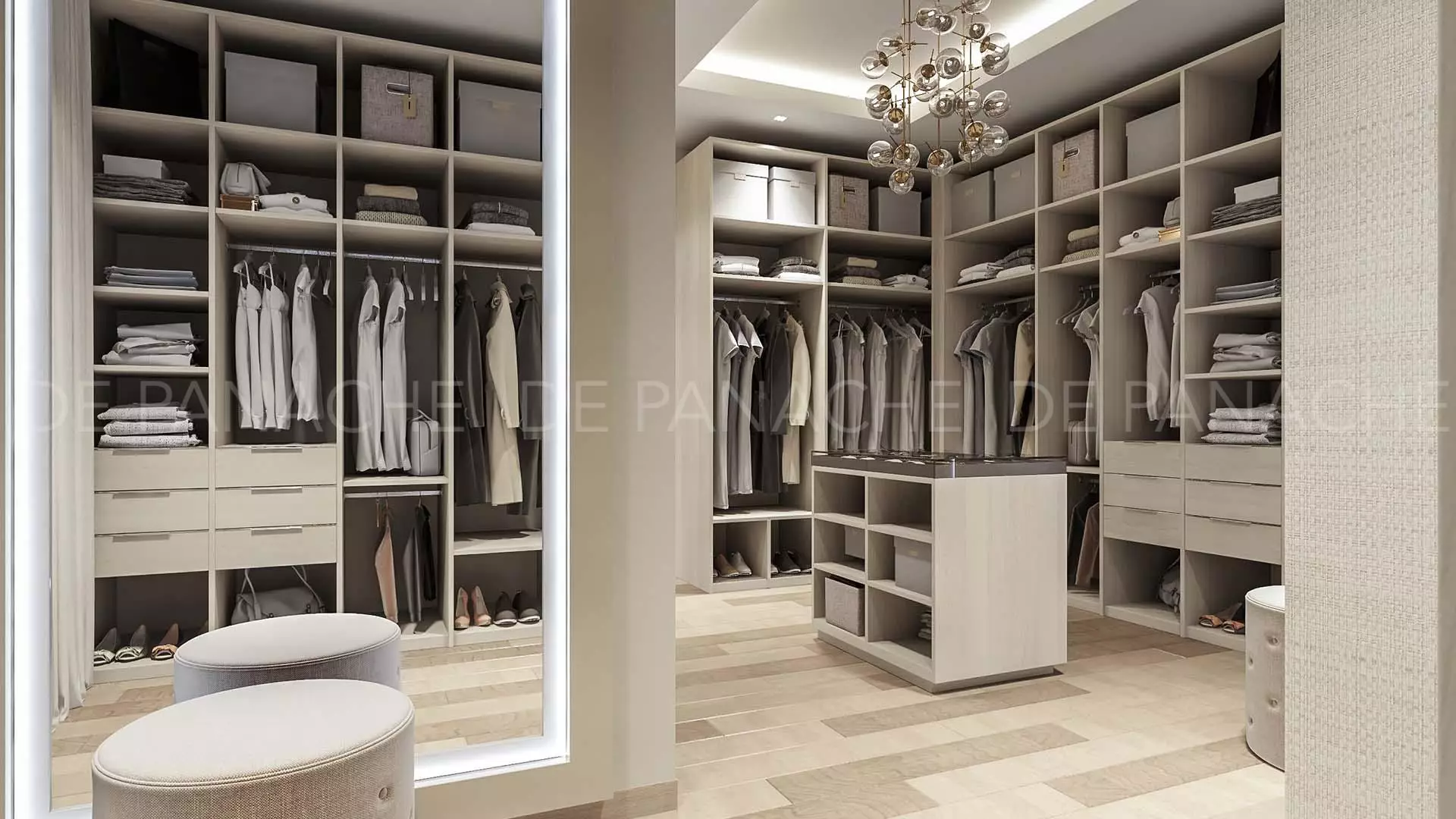 Best Wardrobe Interior Designers in Bangalore
A wardrobe is one of the most important furniture items in your home. Therefore, it is important that you get the best wardrobe interior design. De Panache is one of the best wardrobe interior designers in Bangalore. Our designers will provide you with the best design ideas to create a unique, stylish, and functional wardrobe for your home. We make sure that the design suits your home and your personality as we understand that everyone has a different taste and style. Our wide range of options for wardrobe interior design is competitively priced and sure to please. Our experts are experienced and professional and are trained in all aspects of wardrobe interior designing. We are located in the heart of Bangalore and are known for our quality services and prompt delivery. Our customers include individuals, companies, corporate, and government agencies.
Wardrobe Interior Design Process
We understand that designing a wardrobe can be time-consuming and sometimes challenging. Therefore, we have designed a systematic process that will help you get the best result for your money. We start with a thorough study of your existing wardrobe and the existing conditions in your home. Thereafter, we take into consideration your budget and personal preferences. Before going to the next level, we go through a detailed discussion with you to understand your requirements too. This allows us to come up with a solution that is both practical and aesthetic. Options are then presented to you based on your preferences. Finally, we finalise the design and deliver it to you.
Wardrobe Materials
The materials used for the construction of your wardrobe will determine the longevity of your wardrobe. Therefore, it is important that you get the best materials for your wardrobe. Our designers will help you choose the best material based on your budget, style, and requirements. These include branded plywood, along with imported materials that we source from all around the world. Our designers would let you know the detailed composition of each material and how they will be used. We also let you know the pros and cons of each material so that you can make the best choice.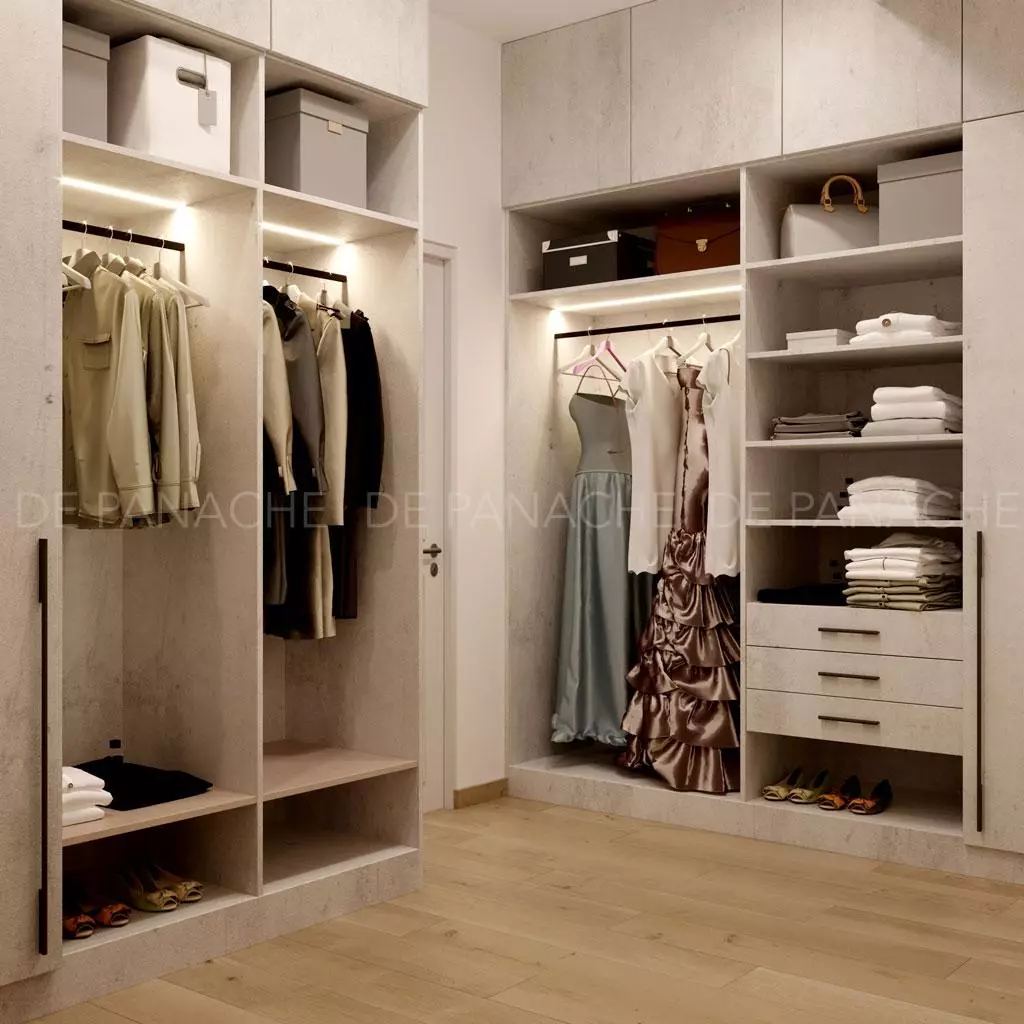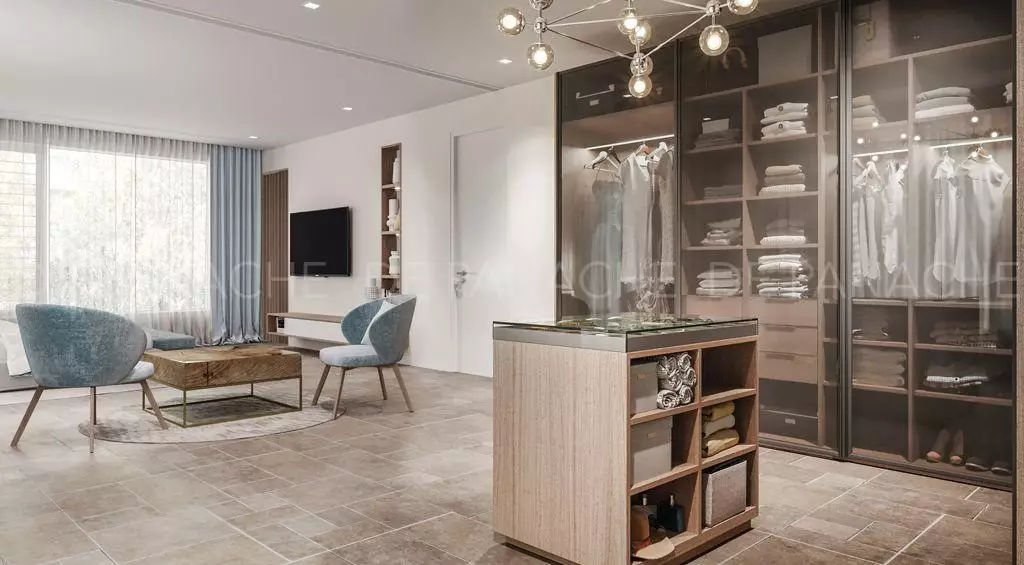 Types of Wardrobe Interior Style We Do
Sliding Wardrobe
A sliding wardrobe is a type of closet that has doors that slide open instead of swinging open. They are typically made of wood or metal and can be either freestanding or built into a wall. Sliding wardrobes are a great way to save space in a small room because they don't require any clearance for the doors to open.
Walk-in Wardrobes
If you're looking for a stylish and practical way to store your clothes, then a walk-in wardrobe is the perfect solution. With plenty of space to hang clothes, plus shelving and drawers for other items, a walk-in wardrobe will keep your bedroom tidy and clutter-free.
Swing Door Wardrobes
Swing Door Wardrobes are a great addition to any home. They offer a stylish and functional way to store your clothes and keep your bedroom organized. Swing Door Wardrobes come in a variety of styles and sizes, so you can find the perfect one to fit your needs.
Built-In Wardrobes
A built-in wardrobe is a closet that's built right into a wall. The advantage of having a built-in wardrobe is that it saves floor space, so you don't need as much room for your clothes. Built-in wardrobes are also great for storing bulky items like towels or blankets.
Free Standing Wardrobe
Free-standing wardrobes are great for small rooms because they require no clearance to open. They can be placed on either side of a bed or near a window and can be customized with shelves and drawers to fit your needs.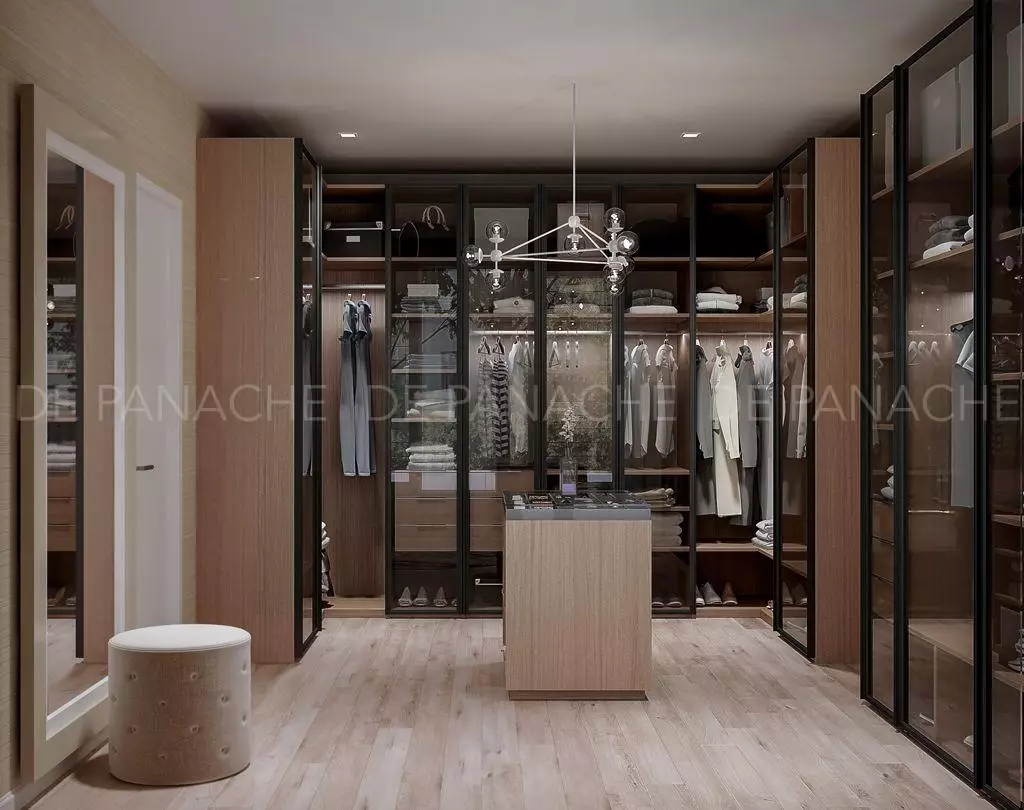 Why Choose Our Wardrobe Interior Designers?
We at De Panache Interiors are a team of interior designers who have been working in the field of interior design for over a decade. Our clients have always been satisfied with the quality of our work. For us, quality is the key to a successful project. We have a proven track record of delivering high-quality interior design solutions. Our work is not just limited to wardrobes, but also includes other aspects of interior design such as flooring, lighting, wallpapering, painting, ceiling, furniture, and many more. We are a company that is known for delivering the best results on time and on budget.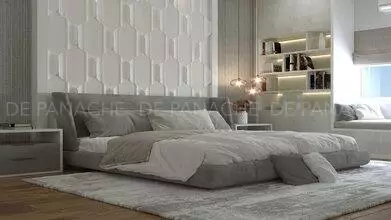 4BHK Villa Interiors     This 4BHK Villa was designed as a dream home for a couple who wished to spend a lot of quality time with family by interior decorators in Bangalore. The whole house has got a sunshine modern interior which has some lively and warm hues of light grey being mixed with [...]
Frequently Asked Questions
What are the benefits of wardrobe interior design?
A well-designed wardrobe can make a huge difference in both the function and aesthetic of your bedroom. By taking the time to consider the layout, materials, and storage options available, you can create a wardrobe that is both stylish and practical.
What are the different types of wardrobe interior design?
There are many different types of wardrobe interior designs to choose from depending on your needs and taste. The most popular type of wardrobe interior design is the walk-in closet. This type of closet is perfect for those who have a lot of clothes and accessories. Another popular type of wardrobe interior design is the reach-in closet. This type of closet is perfect for those who have a limited amount of space.
What are the latest trends in wardrobe interior design?
There are always new trends in wardrobe interior design, and it can be hard to keep up with the latest styles. However, there are some key trends that are emerging for 2022. These include using more natural materials, such as wood and stone, as well as incorporating more storage into the design.
What are the key elements of wardrobe interior design?
When designing the interior of a wardrobe, there are key elements to consider in order to create a functional and stylish space. These elements include storage, lighting, and organization. By incorporating these elements into your wardrobe design, you can create a space that is both stylish and functional.
What are some common mistakes people make when designing their wardrobe?
Designing a wardrobe can be overwhelming, especially if you're not sure where to start. There are a few common mistakes people make when designing their wardrobe, which can be easily avoided. First, people often make the mistake of thinking they need a lot of clothes to have a well-rounded wardrobe. While it's important to have a variety of clothing items, you don't need a huge closet to do so.