Get access to classic modern apartment designs in Bangalore!
Welcome to De Panache -a dedicated team of highly experienced interior designers for homes and apartments -as you desire!
Have you recently shifted into a new apartment? Or, are you designing a new apartment for your family? Whether you are making the new move or remodeling the existing apartment space, get a hold of the space to transform its beautifully with the help of our experienced apartment interior designers in Bangalore. De Panache is a leading group of high-end interior designers featuring on some of the top-end interior designing projects all across the country. If you are making the big move, it is high time that you seek help from the professionals in order to be assured of the best outcomes.
Apartment Interior Designer in Bangalore
De Panache -your one-stop solution to bespoke interior designs for apartments and homes.
Featuring an impressive portfolio of unparalleled apartment interior designing projects, we are capable of taking up any requirement for transforming the given space. We take pride in boasting the presence of a highly qualified as well as experienced team of interior designers who are capable of taking up projects of any complexity or scale.
Interior design is the essence of any home. Whether you are looking forward to creating a functional space or a decorative one with ample luxury, we have got you covered. With relevant collaborations across the country and even abroad, we offer the assurance of handling your interior designing project like a pro!
At De Panache, our bespoke designing solutions emerge from the masterminds of the best interior designers in Bangalore. All our designers possess in-depth industry knowledge as well as relevant expertise in the given field to deliver the best results. For more information on our exclusive offering of apartment interior designers in Bangalore solutions, you can reach out to us right away!
Who We Are
De Panache is an esteemed group of highly skilled as well as experienced interior designers across India and abroad. For your satisfaction, we feature a team of the best apartment interior designers in Bangalore delivering premium-grade designing solutions based on the unique requirements of the clients. Based in Bangalore, De Panache is committed to prioritizing design over other aspects when it comes to accentuating the overall appearance of the given space. Whether it is your home or an apartment, our board of exclusive designers from all over the world takes into consideration your unique requirements and then, puts the same into action. De Panache boasts its expertise as being one of the leading interior designing firms in Bangalore with a team of the best-in-class interior designers from all around.
What We Do
De Panache is committed to delivering a comprehensive range of professional interior designing services to the clients all across the country. Whether you are moving out or renovating the given space, our team of trained interior designers is available at every possible step of the project execution. Right from the conceptualization of the idea to its effective implementation, we are committed to taking care of each & every aspect of interior designing for a wide variety of projects.
While most of our clients have a great taste in designing the entire house, they are quite unaware of the major factors to be considered while designing a room. While it might appear a seamless task, designing a room from scratch is quite a challenging task on the backend. This is wherein the role of expert room interior designers in Bangalore comes in. Our interior designers are well-experienced in dealing with rooms of all sizes, scales, complexities, and specifications. Whatever might be your requirements, we can help you design your dream room with the help of the right industry knowledge and expertise of the professionals.
Kitchen Interior Designs:
Looking for a modular kitchen solution that fits your requirements? Reach out to us for our comprehensive range of customized kitchen interior designing services. Go for creating the one that is tailor-made for your specific requirements while making the kitchen space in your home as functional as possible. Our kitchen designing experts are well-aware of the latest design trends and therefore, deliver the best custom-made results for your space.
Living Room Interior Designs:
Do you wish to remodel the living area in your house? Living area remains at the core of any house. While you tend to welcome the guests here, it is imperative for you to design the same beautifully. Get access to the expertise offered by our team of professional interior designers for designing your living area.
Other Services
Residential Interior Design: A private property does not need a luxury acreage -when you are making use of the expertise of the interior designing experts from De Panache!
Why Us
Team of experienced interior designers
Solutions PAN India and abroad
Track record of successful project completion
Past Achievements
De Panache boasts an impressive background as we feature a track record of having completed hundreds of interior designing projects of all scales and complexities. For more insight into our services, reach out to our experts now!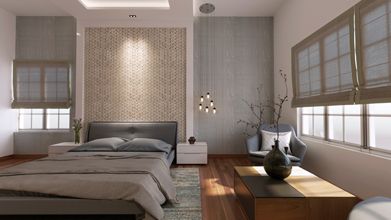 Prestige Lakeside Habitat Villa 4BHK   This Prestige Lakeside Habitat Villa Property at Varthur, Bangalore is designed as a primary home for an NRI family who just returned back to Bangalore. De Panache, being the best interior designers in Bangalore designed the whole house around the European contemporary style of Interiors. This interior design is [...]