Sobha Indraprastha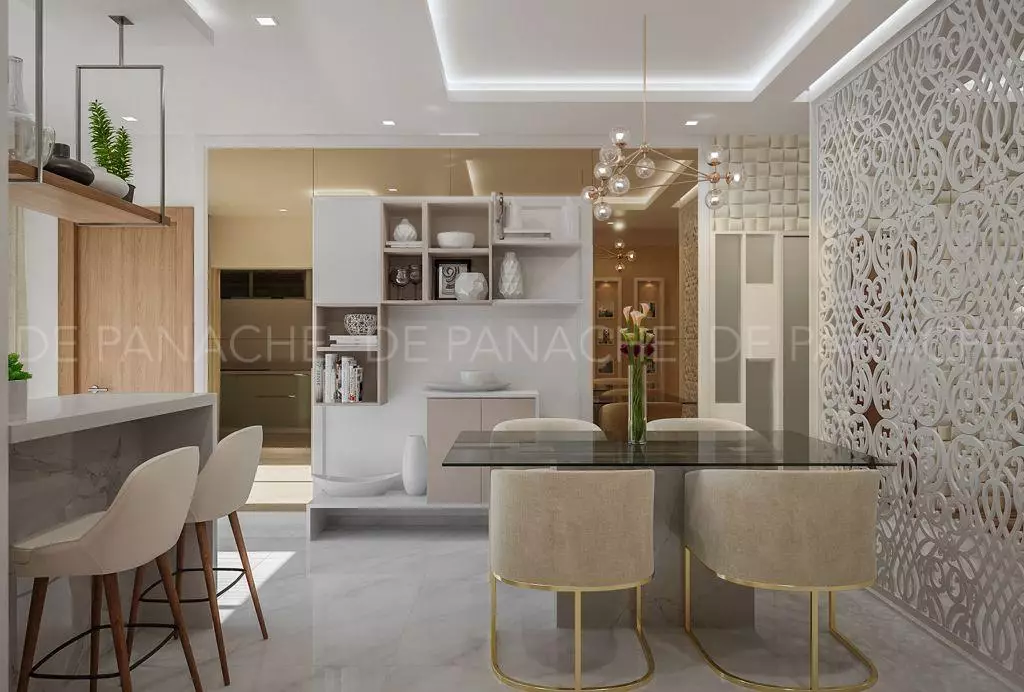 Searching for the best luxury interior designers in Bangalore? De Panache has your back. From traditional, modern to contemporary, we excel in all designs. This apartment in Bangalore has been finely built and decorated, keeping in mind the fineness and the sophistication that the owners had imagined it to be. The eating area has been beautifully decorated with a tinted mirror which is ideally used for doubling up space.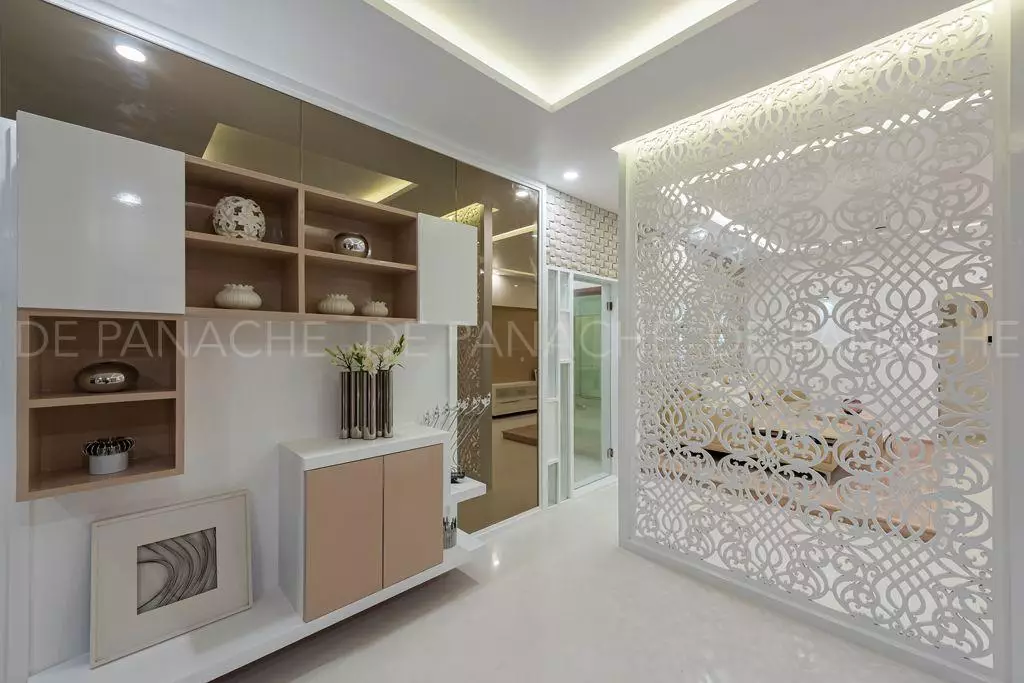 The crockery unit has been finished in white wood which has been dimensionally kept clean and simple.  The breakfast counter, as well as the glass top dining table, is an exceptional addition in the whole interior. The carved Jaali, a fantastic art of the land of sand, gives a royal touch to space. It has been uniquely used to separate the eating area from the rest of the house. The natural stone made breakfast counter adds grandeur to the whole interior. The crystal chandelier, the hand-cut glass mosaic on one of the walls of the area unanimously highlights the royalty of the space.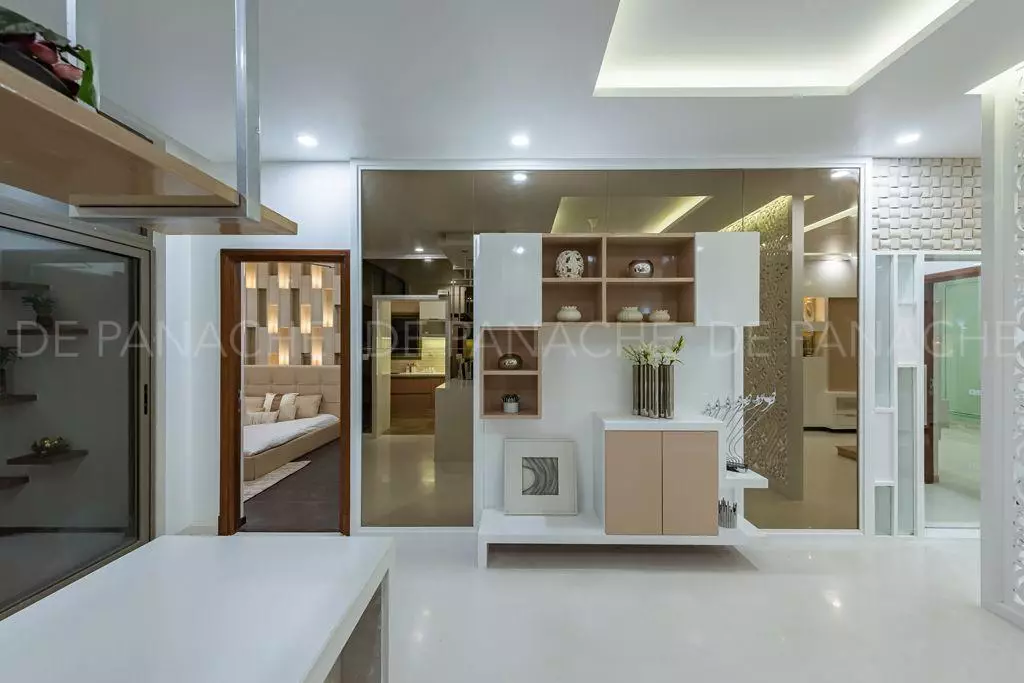 The carved Jaali is the perfect rendition of tradition with modernity. It highlights the majestic look of the art, which is an exceptional collection from the land of the Rajputs.  The mood lights and the panel lights have beautifully highlighted the unique elements of the interior. The crockery unit has been kept clean so that it flows smoothly with the whole look.  The natural stone beading on the top of the door and the elevated seating sofa are all simply put to achieve excellence.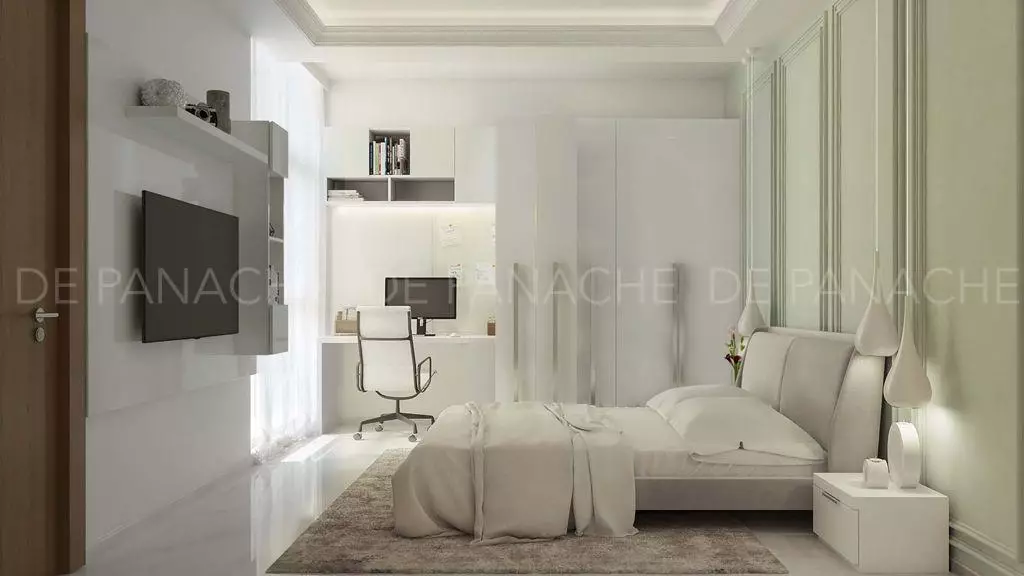 As the tinted mirror reflects the whole interior space, it makes the interior look wide and spacious. The breakfast counter is unique in its style, and all these are the ideas and execution of the team. In the white background, we dare to keep everything white which does not make the interior look monotonous instead the tones and shades of each element make the space look vivacious and modern and gives it a shiny look.
The master bedroom has been built, keeping in mind the aesthetics of the dwellers.  The colour of this room has been kept white. The backdrop of the bed has been beautifully carved with wooden beadings in the panel like structures, fully draped in the lighter shade of mossy green.  The ceiling has been ideally completed with the wooden cornice. The TV unit, all wrapped in white complements the whole look of the interior.  
The full-length windows let the natural light breathe into the veins of the interior. The study unit, as well as the study storage all, have been kept simple but elegant. The wooden wardrobe again in white twining with the whole interior space, clearly reflects the royalty of the décor. The white marble flooring, as well as all other accessories, completely fit in with the entire décor. De Panache believes in a unique presentation. Thus the team keeps on striving excellence.