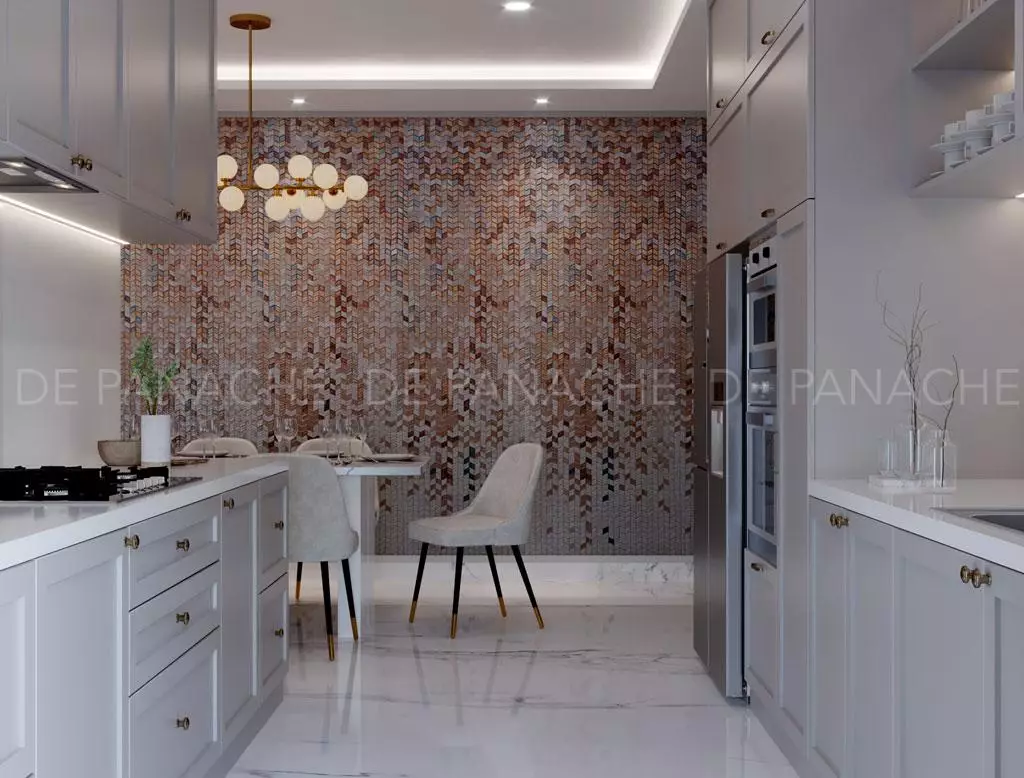 Interior designers in Bangalore have been hard at work, creating the perfect atmosphere for your home. From classic styles to modern designs, they have unveiled the latest trend – black modular kitchens! These sleek and stylish designs will make any kitchen look more sophisticated while offering plenty of storage and convenience. This is the best approach to updating your kitchen in a contemporary manner. Continue reading to learn more about this fascinating trend!
Turn Your Kitchen Into a Stylish Haven with the Latest Trends in Black Modular Kitchens!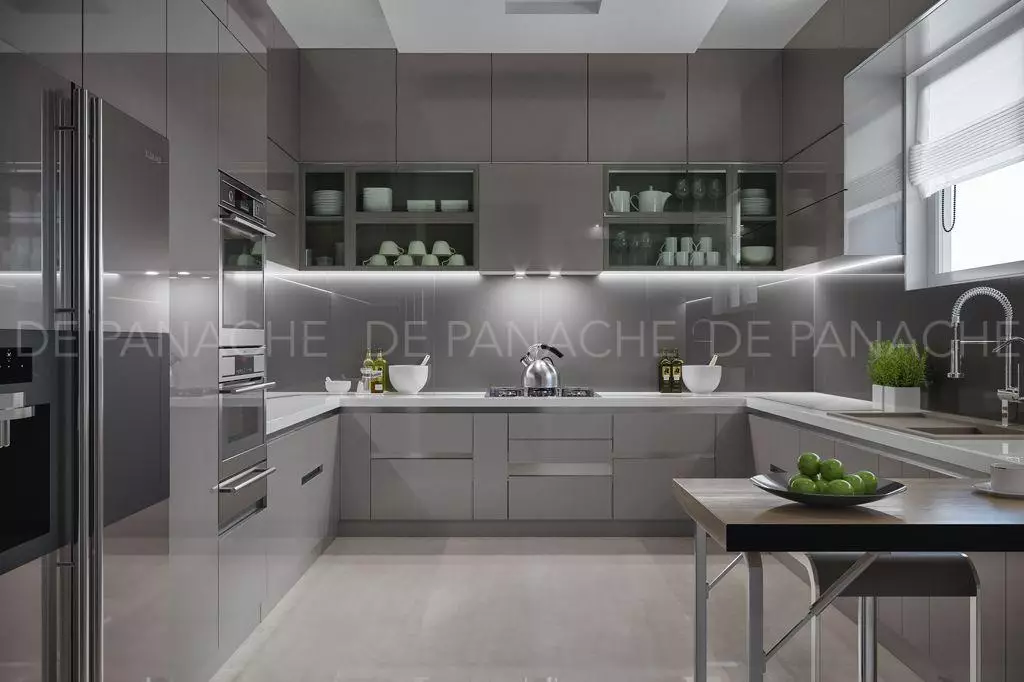 Black modular kitchens have become increasingly popular in recent years, and several trends dominate the market.
Matte Black Finish: Matte black finishes are currently vogue for black modular kitchens. This sleek and sophisticated finish provides a modern and contemporary look to the kitchen.

Contrasting Elements: Many designers are incorporating contrasting elements in black modular kitchens. For instance, using white or metallic finishes for cabinets, countertops, or hardware can create a stunning contrast against the black backdrop.

Black and Gold: Black modular kitchens also have a tendency towards gold accents and accessories. The kitchen may look more opulent and luxurious with gold cabinet knobs, faucets, and lighting fixtures.

Textured Surfaces: Textured surfaces, such as matte tiles or rough-finished countertops, can add visual interest to the kitchen while still maintaining the black theme.

Minimalist Design: Minimalist design is still a popular trend in black modular kitchens. Simple, clean lines and uncluttered spaces create a sleek and modern look. Hidden storage and built-in appliances can help maintain the minimalist aesthetic.

Black with Wooden Accents: A warm and welcoming environment may be created in the kitchen by combining black with wooden components like wooden cabinets or flooring. Wood's organic texture may make a charming contrast to black's ominousness.
These are only a handful of the most recent developments in black modular kitchen design. An expert interior company in Bangalore, like De Panache, can assist you in achieving the desired look. In the end, the design should represent your individual tastes and preferences.
How to Get the Most Out of Your Black Modular Kitchen from Interior Designers in Bangalore
You may make your kitchen a contemporary, fashionable environment by hiring the best interior design services in Bangalore. 
Firstly, it's important to understand the basics of kitchen design. This means considering your kitchen's layout and which materials, appliances, and cabinets will work well in the space. For example, if you have a small kitchen, it's best to opt for a modern, minimalist black modular kitchen design that will help make the most of the available space. 
Next, think about the type of materials you'll use in your kitchen. If you're looking for a sleek, contemporary kitchen, then stainless steel and black lacquer are great options. Wood and granite are the best materials to use if you want a more conventional kitchen. Investing in high-quality components like solid wood or stone countertops is another smart move. This will help to ensure your kitchen looks great and lasts long. 
In addition to considering the materials you'll use, you'll also need to decide on a design theme. Whether you're looking for a modern, contemporary kitchen or an industrial, rustic-style kitchen, there are plenty of options available from interior services in Bangalore. For example, if you're looking for a modern kitchen, then dark shades of grey, black, and white are great options. Alternatively, warm tones such as gold and brown are great choices if you're looking for a more traditional kitchen.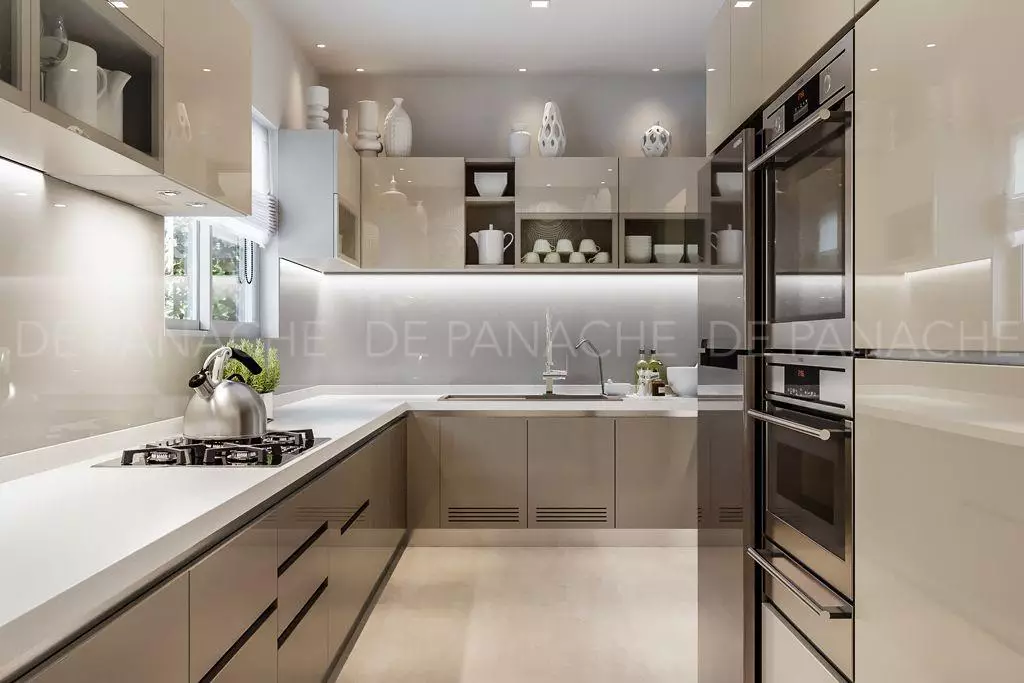 Finally, it's important to consider the functionality of your kitchen. Make sure to invest in quality appliances, such as ovens, dishwashers, and refrigerators, that are both energy-efficient and durable. You'll also need to think about storage solutions, such as cupboards, shelves, and drawers. This will enable you to maximize your kitchen area and ensure everything is simple to get to.
Tips for Maintaining and Enhancing Your Black Modular Kitchen
Regular cleaning: Clean your black modular kitchen regularly with a soft cloth and mild detergent. 

Wipe spills immediately: Wipe up any spills or stains immediately to prevent them from staining the surface. 

Avoid direct heat: Avoid placing hot pots and pans directly on the countertop. 

Use cutting boards: Use cutting boards when chopping or cutting to prevent scratches on the countertop.

Avoid harsh chemicals: On the surface of your black modular kitchen, stay away from utilizing corrosive substances like bleach or ammonia. 

Polish the surface: Use a polish designed for black surfaces to enhance the shine of your black modular kitchen.

Keep it dry: Keep your black modular kitchen dry to prevent water stains and discolouration.