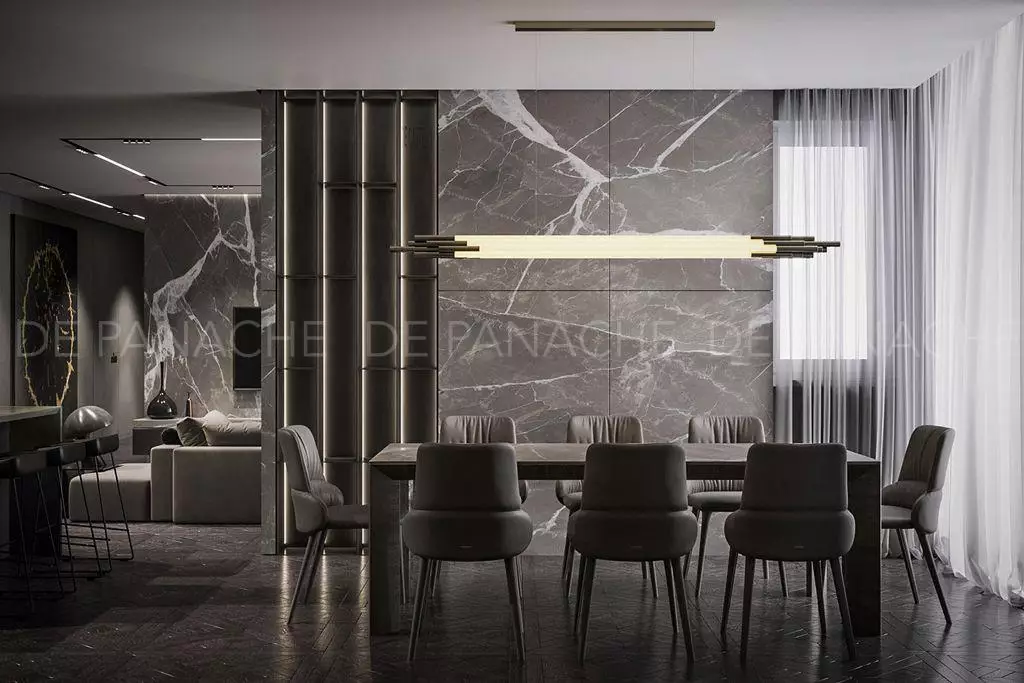 The house makes a luxury statement in beige and dark wood. This 4000 sq.ft lavish apartment was designed for a small family and we helped them to transform it into a grand abode hence known as apartments interior designers in Bangalore. This is clearly a home where creativity lives, breathes, and makes its presence felt. It is the dance of light through a sheer curtain, the sheen of the leather panel, or the woven story that the neutral wall coverings whisper. The swatches of fine fabrics and wall claddings in muted shades with intricate detailing complete each corner of the house. This home encapsulates modern luxury.
De Panache's out-of-the-box design vision gets a further breather with the sizeable living room, where dark wood has been used to give it a touch of elegance. The living room has a corner bar unit that has been judiciously hidden from the purview.  At the center is the gigantic customized crystal chandelier which radiates up the whole space, thus defining the entire living area. The chandelier creates a strong presence in the interior, highlighting the whole living space.
 The master bedroom reveals carved design vinyl-based covering, perfectly complementing the leather panel wardrobe. To make the bedroom look really grand here we have combined two bedrooms into one which celebrates the space. The master bedroom has been given an office cum TV unit with a lavish seating area. Their parents' bedroom was also finished with dark wood, thus giving a typical dark interior combined with the white furniture it reflects the dark wall coverings that act as an accent wall. 
The headboard made of the leather panel, together with the licentious luminance of light keeps the space in sync with the rest of the rooms in the apartment. Sliding wardrobe shutters made up of Bronze tinted mirror and dark wood which double up the whole space. Thus, we present you with an eclectic, comfortable, and welcoming home.