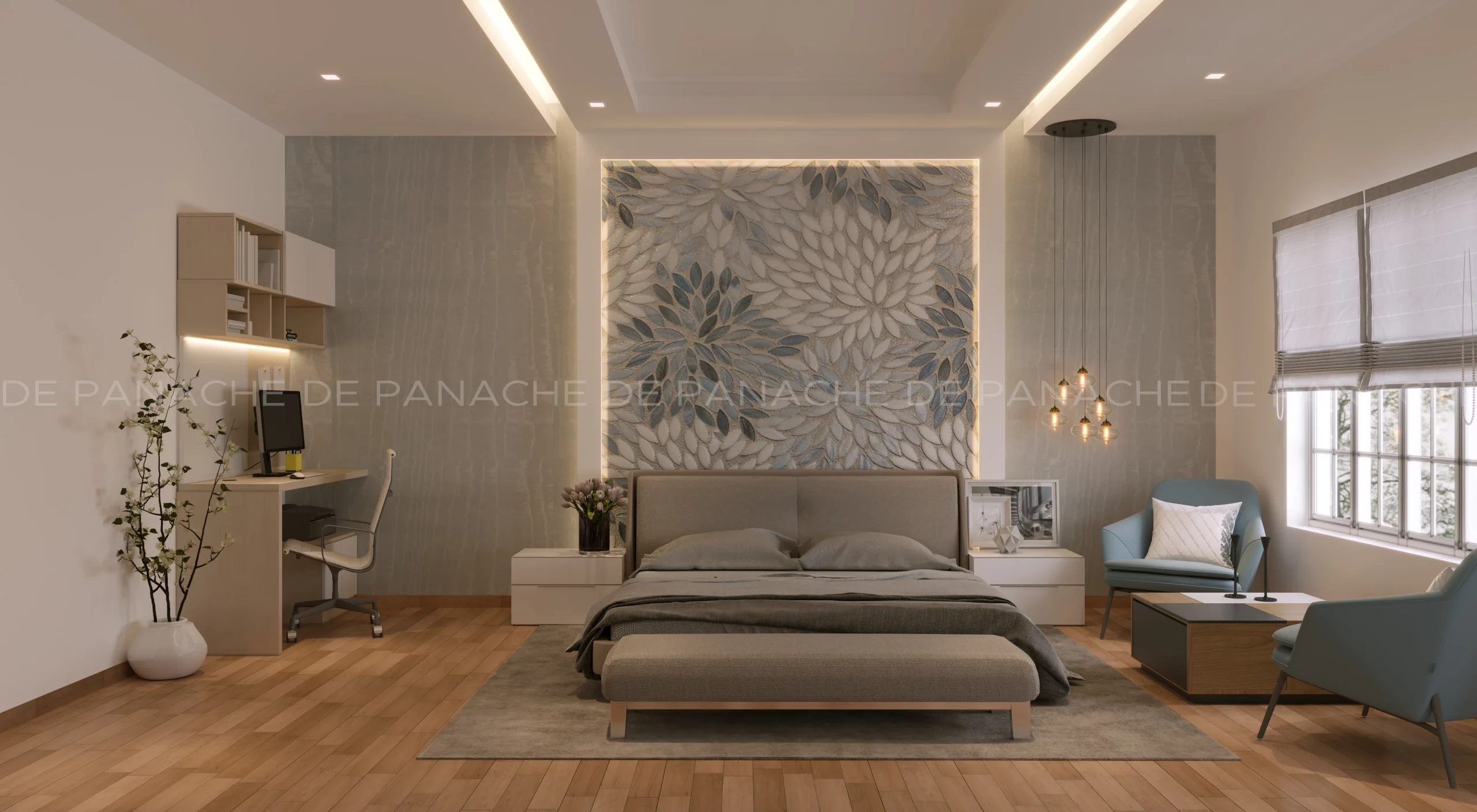 Get the Perfect Interior Designers in Domlur Bangalore for Your Dream Space!
Interior design is the art of creating and enhancing the aesthetics of a space, both aesthetically and functionally. If you are looking for interior designers in Domlur Bangalore, to create a beautiful, comfortable, and functional living space, then nothing can be better than De Panache. De Panache is the perfect place to get the perfect interior designers for your dream space. With experienced professionals and creative minds, De Panache provides a wide range of services from concept design to execution of projects—all tailored to your needs.  
The Dos and Don'ts of Working with
Interior Designers in Domlur Bangalore
Dos
Do your research: Before hiring an interior designer, do your research. Look at their portfolio, read reviews, and ask around to get an idea of their work and reputation.
Have a clear vision: Make sure you have a clear vision of your space before you start working with an interior designer. This will help make the process smoother and ensure that you get the results you want.
Communicate: When working with an interior designer, it's important to communicate your vision and expectations. Don't be afraid to ask questions or voice your concerns. An experienced interior designer should be able to help you get the results you are looking for.
Don'ts
Don't skimp on a budget: Working with an interior designer can be expensive, but it's important to be realistic when setting your budget. Set a budget, you are comfortable with and discuss it with the designer before starting.
Don't be afraid to compromise: When working with an interior designer, you may need to compromise on certain design elements to get the look you want. If you are willing to compromise, it can help make the process smoother and ensure you get the best results.
Don't be too demanding: While it's important to have a clear vision of what you want, it's also important to give the designer the freedom to work their magic. Don't be too demanding, and be willing to listen to their suggestions.
Unlock the Secrets of Expert Interior Designers in Domlur Bangalore with De Panache! 
Every interior designer in Domlur Bangalore follows a secret process of working. Our process at De Panache is distinctive as we pay close attention to detail and guarantee that the customer has approved all designs and materials from the outset. 
Meet and Greet 
When we initially meet with a customer, we introduce ourselves, present some of our prior work, start by learning about their goals, and then follow them with examples of our prior work to give them a sense of how we might mould things for them.
Conceptualize
After learning what and how our customer thinks, we conduct a resource-intensive brainstorming session to produce something original. Whiteboard sessions and digital renderings continue in several iterations. After that, we discuss our findings with the customer.
Design
The most critical stage has arrived, and now it is clear why anyone would pick De Panache. We create 2D and 3D renderings of the design while being mindful to include a specific amount of joy. As we never limit ourselves to merely the typical arrangement of design components, you can always count on us to create something distinctive and outstanding. We now anticipate the client to assist us in identifying their touchups.
Material Choice
The choice of material for any interior design establishes the tone for the whole infrastructure. At De Panache, we take pride in bringing the best from across the globe rather than sticking to only the materials that are easily accessible. We will do all it takes to satisfy the client's expectations and ensure the materials are top-notch & distinctive.
Implementation
We ensure that every last detail is taken care of when the customer accepts our plan, and after that is done, we often provide the client with a timetable within which they can authorize us to take over their house or place of business. You may be confident that we will take great care to provide you with a home or workplace that you will treasure for a lifetime.
Handover
When we complete the project from our end, we give it off to the customer after executing all necessary quality checks and stringent follow-ups.
How About Working with De Panache Interior Designers in Domlur Bangalore?
De Panache is a leading interior design firm in Domlur, Bangalore, offering best-in-class interior design solutions for residential and commercial premises. At De Panache, we strive to make the most of every interior design project. We are dedicated to providing excellent client service along with high-quality outcomes that are both functional and visually beautiful. Our experienced team of professionals is always available to answer any questions and provide our clients professional advice. 
Get more detailed information on our official website. 
Or 
Contact: 080 4095 2727
Or 
write to us at: info@depanacheinteriors.com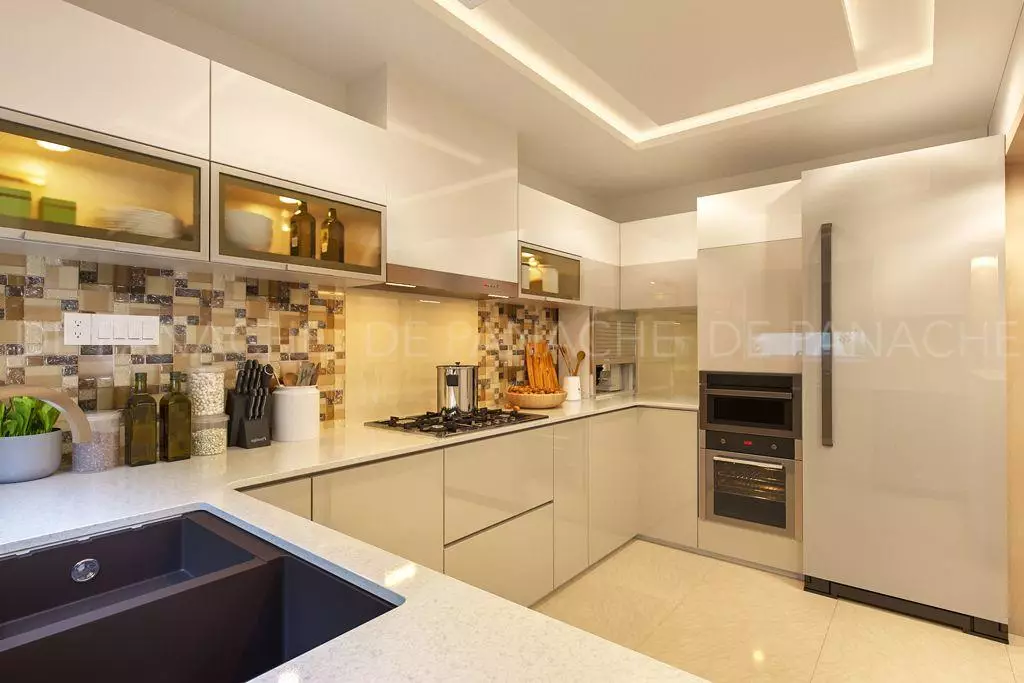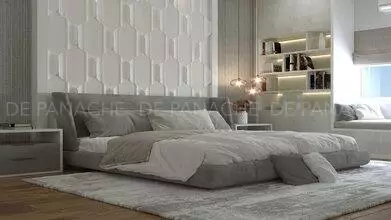 4BHK Villa Interiors     This 4BHK Villa was designed as a dream home for a couple who wished to spend a lot of quality time with family by interior decorators in Bangalore. The whole house has got a sunshine modern interior which has some lively and warm hues of light grey being mixed with [...]
Frequently Asked Questions
Do De Panache offers customization?
De Panache's design work guarantees total customer happiness. Customers can select the materials used to create furniture and decor. Customizations are made in accordance with each client's preferences.
How much communication occurs between the client and the company's designer?
At every stage until completion, there is extensive communication between the customer and the company's designer. Customers can choose their own fittings and accessories.
What is your markup?
There isn't a set markup for us. Instead, we ensure that our pricing is always competitive with the market, fair to you as our client, and affordable.
What distinguishes interior decorators from interior designers?
Interior designers are skilled professionals who have finished a formal degree in design, whereas interior decorators are often not needed to have any official training. This is the major distinction between interior designers and interior decorators. The layout and purpose of a room are often determined in collaboration with customers, after which the right furniture and materials are chosen to create the intended style. On the other hand, interior decorators often concentrate on choosing and arranging furnishings, accessories, and another décor for a room. However, designers and decorators share numerous duties and responsibilities, making it difficult to distinguish clearly between the two professions.
How can I be assured that De Panache will execute my project to the highest standard?
De Panache ensures that each project is completed to the highest standard, providing joy and satisfaction to their clients every time. In addition, the team ensures that the project is completed according to the plan and presented with a superior finish.